Multi-Wick
Scented Candles
Hand poured, all-natural coconut and apricot wax for a refined, clean burn and room filling fragrance.
We are pour & Penchant
A handpoured, small batch artisan candle company. We endeavor to provide highly fragrant, clean burning and long-lasting scented candles.
We pride ourselves on using sustainable coconut and apricot wax, phthalate-free fragrance oils, cotton core wicks, and years of meticulous craftsmanship.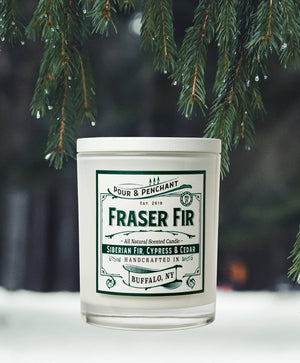 Merry & Bright
'Tis the season
LIMITED COLLECTION
HOLIDAY 2023
May the light and warmth of the season bring comfort and joy to you, your family, and friends.
SHOP THE COLLECTION
What Customer's Are Saying
★★★★★

SMELLS OF SWEET SPRING! I had to wait to light this Veranda candle until I gave my daughter Parlour and Terrace for her Birthday yesterday! Veranda smells like oranges and greenery. Very bright and clean smelling candle. Perfect for Spring.

VERANDA no.02

Lisa P.
★★★★★

GARDENER'S DELIGHT! One of my favorite scents of summer has always been the smell left on my hands after working my tomato patch. It's what I miss most during these long, dark, Buffalo winters. I used to long for that smell, but not anymore, because I've found it in this candle.

TOMATO PATCH no.07

Dorthy B.
★★★★★

TOTAL SOPHISTICATION! How we love Library! The rich smells take over like a good book! Make me picture a room full of rich mahogany, old books and leather couches! Love, Love, Love Library!!

LIBRARY no.09

Dave D.
★★★★★

BREATHE DEEPLY! This is such a calming scent, I find myself breathing more deeply, slowly, when it's lit. While not overly strong, it fills the room with a soft, relaxing aroma. This is the third time I have bought this candle, and I hope Pour & Penchant never stops making it!

BREATHE no.47

Catherine C.
★★★★★

BEST CANDLES EVER! Love this candle! It smells so good and burns super well. My only regret is I didn't buy more. Just put an order in for Mother's Day for my mom. The owners are super nice and helpful too. These will be my go to candles from now on.

LAVENDER SAGE no.28

Heather M.